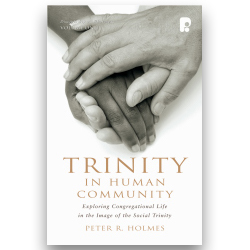 Peter R. Holmes
God lives in a divine community; Father, Son and Holy Spirit. This much misunderstood reality of the nature of God and His relationality within the Godhead is a profound and important truth, revealing aspects of God's nature and how we as humans can and should relate to Him.
This book adds to the debate about the Social Trinity by asking 'what might the church look like if we began to apply this supernatural relational dynamic to congregational life.
Based on empirical research and theological enquiry Trinity in Human Community explores one congregation's exploits in discovering new dimensions of community that mirrors a relational Trinity. It includes quotations from members of Christ Church Deal and illustrates how dynamic church life can become with the social Trinity at its heart.
List Price: £10.75