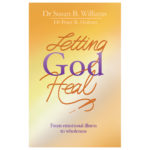 Susan B. Williams & Peter R. Holmes
This book is Susan's personal story, focused around her early life in becoming a Christian, and slipping gradually into two emotional breakdowns. Follow her journey layer by layer as she learned how to let God bring healing, releasing her into emotional health, and simultaneously transforming her relationship with God, others and herself.
Susan says; "I always promised that I would never write a 'testimony' – I found them too depressing. If God had healed them, why hadn't He healed me? So Letting God Heal had to be different…" In addition to the detail about how God healed, Susan and Peter have added a number of Biblical principles which are intended to help others find more wholeness. It turns her testimony into a mini-manual, introducing principles that are now foundational to the wholeness and discipleship of the Rapha Journey.
Letting God Heal comes with a health warning – it is not a gentle introduction. If you are looking for a book that introduces the Rapha Journey in a simpler way, have a look at Changed Lives.
Letting God Heal, 2nd Edition has been translated into Turkish.  If you are interested in purchasing a Turkish copy you can do so here.
Your Price: £11.00
---
eBook Options!
To add eBooks on your Kindle device or app see Amazon's Send to Kindle instructions.
To add iBooks to your Apple device or app see this article.
Kindle eBook
Price: £8.50