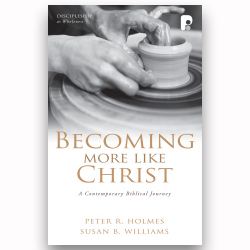 Peter R. Holmes and Susan B. Williams
How do we become more like Christ? The answer is not as clear as we might expect. Becoming More Like Christ explores why the church has been ambiguous in its answer to this question and sets about responding in a very practical way.
The authors offer a careful exploration of characteristics of Christ-likeness that can be adapted to any culture or life experience. But they also locate a journey into greater Christ-likeness within the context of a journey into greater wholeness, exploring the connections between the two.
Grounded in Scripture with practical examples of how to pursue greater Christ-likeness in one's personal life, Becoming More Like Christ proposes that we all need to take personal responsibility to change – and shows us how.
List Price: £8.25