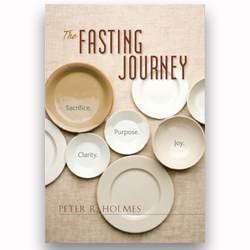 Peter R. Holmes
Fasting has been a spiritual discipline since the time of Early Israel. But how does fasting fit into life in the early 21st century? Dr Holmes approaches the subject in a unique way, drawing on more than 40 years of his own fasting journey.
The book teaches you how to start fasting, whether partial or water-only fasts, or fasts that focus on behavior change. It also contains advanced sections for those who want to increase their capacity for longer fasts.
Dr Holmes approach is very practical, talking about the needs of the body and the emotional demands of fasting. He also explores how this spiritual discipline can be used strategically in the Christian life. He gives examples of breakthroughs in finance, healing and wholeness, church planning and discipleship.
Unusually the book also suggests that in today's society healthy eating can itself be approached as a partial fast, with all of the accompanying benefits.
List Price: £10.75