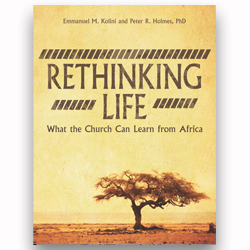 Emmanuel Kolini and Peter R. Holmes
This is a book which challenges our preconceptions about African spirituality before the arrival of Western missionaries. Written by a former Archbishop of Rwanda and a specialist in theology and psychology from the West, Rethinking Life suggests a radically different perspective on religion and faith in Africa.
Mapping the journey from traditional African religion, through the coming of the missionaries and on to the East African revivals, the authors bring Africa to life – from Imana, the creator god, to the coming of Christ. But bringing a Western perspective to African values can create the presumption that what is unfamiliar is also outside Christ. Is that a helpful view?
Rethinking Life explores the richness and diversity of African traditional religion and family-centred values and considers what God restored to the church when He intervened with the East African revivals.
List Price: £8.25