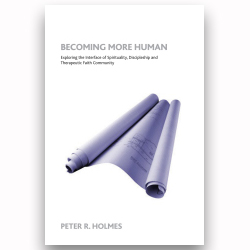 Peter R. Holmes
We are watching the collapse of the traditional Western Church. New models are desperately needed to give postmodern people a reason to follow Christ. In Becoming More Human Peter Holmes presents a theologically- and psychologically-informed framework for a new aspect of congregational life – a therapeutic faith community. It is based on a clinical model that has been running for a number of years at Christ Church Deal, UK, where the local church is also a therapeutic community.
The author outlines a journey of therapeutic discipleship change towards Christ-likeness, where maturity in Christ means increasing personal and relational wholeness. He outlines a Biblical pneuma-psychology and therapeutic process in a congregational setting.
Full of quotations from Christ Church Deal Becoming More Human offers fresh perspectives on the place of the church in a needy world.
List Price: £15.50